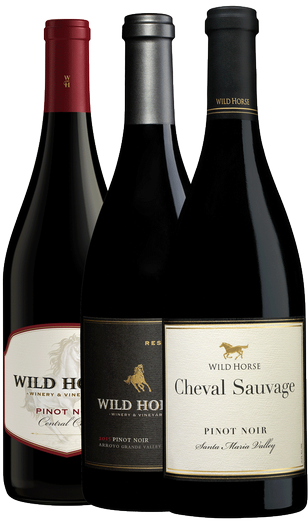 Pinot Lover's Trio
The Pinot Lover's Trio features 1 bottle of each:
2016 Pinot Noir Central Coast
Aromas of dried cherries and strawberry with rhubarb, high fruit notes, sweet oak, and cola spice. The flavors are structured and balanced with bright red fruit, oak spice, baking spice, and vanilla.

2015 Reserve Pinot Noir Arroyo Grande Valley
High tone spice driven aromatics are the signature for this vineyard. Concentrated notes of cherry cola, cedar box, and holiday spices are coupled with rich a mouth-feel and soft tannins. Brightness and delicate tannins allow this wine to pair with a wide range of fare.

2013 Cheval Sauvage Pinot Noir Santa Maria Valley
In classic Cheval style, this wine is terroir driven with earthy-spicy aromas and notes of strawberry, rhubarb, and dark cherry that are pleasing to the senses. The palate opens with minerality and earth. The mid-palate is elegantly structured and balanced with flavors of bright red fruit and spice.
Product Reviews
Valerie G.
(Dec 9, 2015 at 1:56 PM)
Love this set! First had the Unbridled pinot at the winery and loved it. The Central Coast is a great go-to wine for everyday dinners. Can't wait to open the Cuvee this holiday!