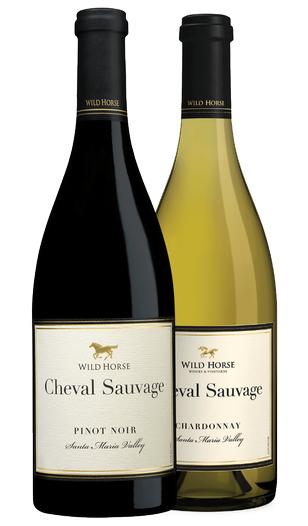 Cheval Duo Gift Set
The Cheval Gift Set features 1 bottle of each:
2013 Cheval Sauvage Pinot Noir Santa Maria Valley
In classic Cheval style, this wine is terroir driven with earthy-spicy aromas and notes of strawberry, rhubarb, and dark cherry that are pleasing to the senses. The palate opens with minerality and earth. The mid-palate is elegantly structured and balanced with flavors of bright red fruit and spice.

2015 Cheval Sauvage Chardonnay Santa Maria Valley
Our 2015 Cheval Sauvage Chardonnay offers an inviting blend of aromas, including pineapple, lemon zest, crème brûlée, coconut, and spice with floral and mineral notes. The flavors are a delicious balance of freshness and creaminess, with vanilla, spiced green apple, and lemon.